The idea of "working-out" used to bore me. I'd wander aimlessly around a giant gym surrounded by machines, gadgets and all sorts of weights but have no concept of what to do with them. Thankfully, the concept of boutique fitness has exploded throughout NYC within the past year, and there are so many unique options from me to choose from to stay fit.
I was recently invited to try the latest studio on the block,
((305)) Fitness
, a self-proclaimed underground cardio fitness experience. Well it was literally underground (yay basements!) and definitely an experience (a really, really fun experience).
All images courtesy of ((305)) Fitness
Their website says: "We turn your workout into a party." What kind of party, though, I wasn't initially sure. In fact, when I first arrived at 9:45 on a Sunday morning with my guinea pig friend, we were a bit confused if we were in the right place as the only signage was a neon pink "GIRLS, GIRLS, GIRLS" ominously hinting at what might be in store for us downstairs.
The front desk
But the gal at the front desk had our names on a list and we were directed past several really neat art pieces to the super clean and colorful locker room to store our belongings before we boogied on downstairs. The 305 Goddess showed the way...
The 305 Goddess and stairs going down to the studio
The studio is basically a club. It's decked out with all sorts of colored lights, giant images of lips and mouths, positive mantras along the front mirror, and...wait for it...a DJ booth. Our instructor,
JJ Montell
, started the class with so much positive energy and he did something that I really appreciated and haven't seen at other studios. It was simple. He said, introduce yourself to someone you don't know. The fun in this was that we were all about to be dancing together for an hour, so it's way more fun if you at least know another person's name.
JJ Montell
We started with a Zumba-like warm-up, but the choreography quickly escalated to more advanced dance moves, sports drills, and various squats and lunges. His direction flowed perfectly with the music and the lights curated by our DJ that I was able to let loose and really feel like I was at a party. At three points in class we stopped for what he called our sprints, which were basically high-intensity drills of high-knees followed by push-ups or crunches. It was also arms day, so we did a few minutes of small-movement arm drills (ie, arm circles, holding arms out in a T, shoulder presses).
I was sweating buckets and almost every muscle burned by the end of class, but my endorphins must have skyrocketed. The music was a perfect mix of new and old, the latter taking me back to my days in middle-school hip-hop dance classes (what what!?!).
My friend, an avid soccer player who tends to stay away from dance-based workouts, said she had a lot of fun trying something new. In her words, even though she couldn't follow along all of the dance moves perfectly, some of the more traditional conditioning sequences were natural for her to follow and that's where she pushed herself the most.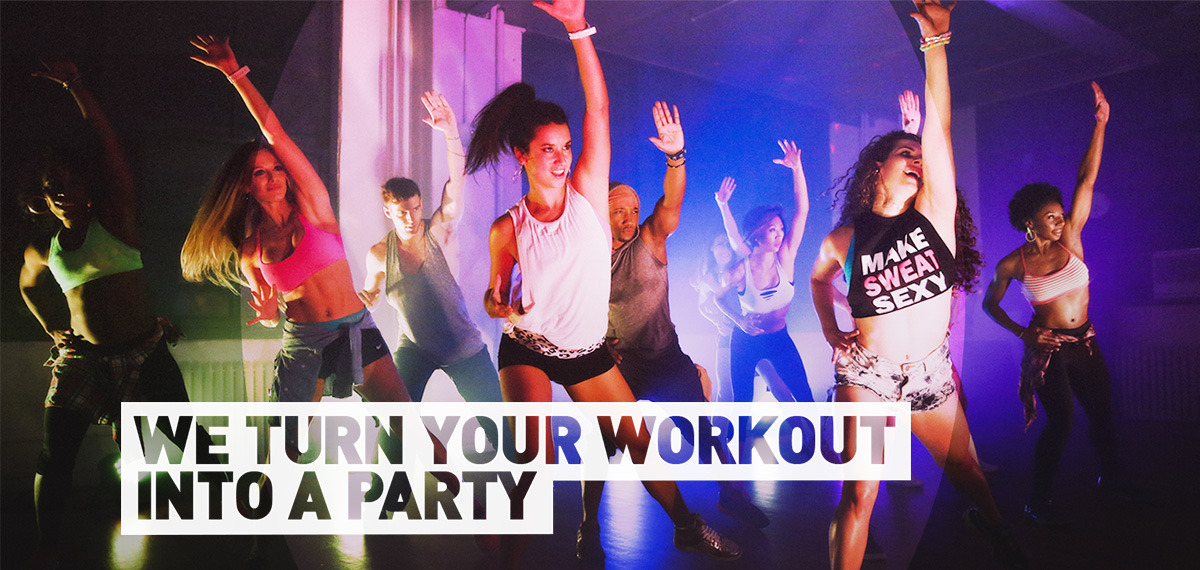 I would highly recommend this workout to everyone. Classes are $32 each, but they have an intro offer of 3 classes for $36. The locker room is well stocked with all the products you need to get ready (and self-locking lockers) and has 2 showers. Towels are available at the front desk.

Good news! We're giving away a free class for one lucky reader and a friend. To enter, use the rafflecopter form below and enter before midnight on 12/10. Best of luck!



a Rafflecopter giveaway